When trying to determine the cause of problems encountered with electrostatic painting, it can be confusing. The problem is often solved by updating the grounding process, however this simple solution is often overlooked.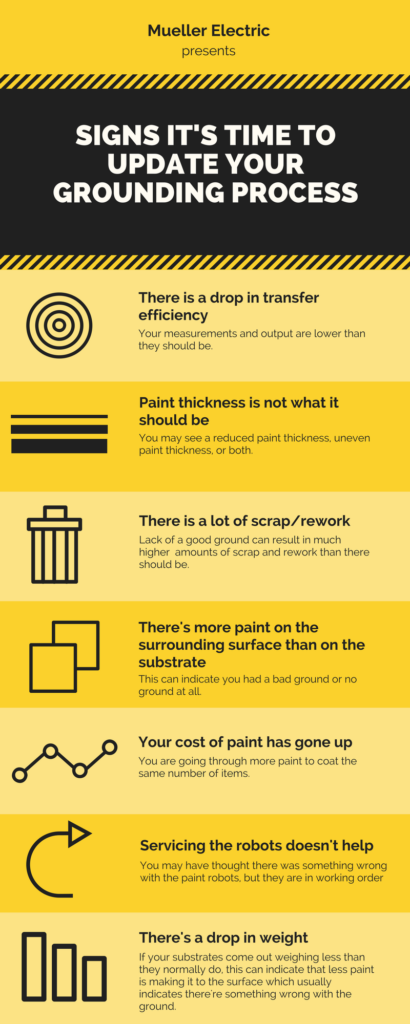 1. There is a drop in transfer efficiency
Your measurements and output are lower than they should be.
2. Paint thickness is not what it should be
You may see a reduced paint thickness, uneven paint thickness, or both.
3. There is a lot of scrap/rework
Lack of a good ground can result in much higher amounts of scrap and rework than there should be.
4. There's more paint on the surrounding surface than on the substrate
This can indicate you had a bad ground or no ground at all.
5. Your cost of paint has gone up
You are going through more paint to coat the same number of items.
6. Servicing the robots doesn't help
You may have thought there was something wrong with the paint robots, but they are in working order
7. There's a drop in weight
If your substrates come out weighing less than they normally do, this can indicate that less paint is making it to the surface which usually indicates there's something wrong with the ground.
If you think updating your grounding process will help, you can head over to this handy page which addresses the most common considerations and questions for updating your grounding process.
For more information on grounding, read our whitepaper Static Electricity and Grounding in Industry.
You can also take a look at our free guides for grounding plastic and metal for painting.
---