Recent times have forced various industries to move towards automating everything possible in order to provide a consistent output and improve quality. This allows manufacturers and builders of all types to run at full production. With the availability of the workforce uncertain, demand for robots is skyrocketing.
Robots are now being utilized in expanded capacities. Manufacturers, already heavy in factory automation, are now using robots with machine vision. Machine vision systems can locate the position and orientation of a part, compare it to a specific tolerance and ensure it is at the correct angle to verify proper assembly. Machine vision guidance achieves greater speed and accuracy than manual positioning in such tasks as arranging parts on or off pallets, conveyor belts, finding and aligning parts for assembly, placing parts on a work area, or removing parts from bins.

More and more manufacturers are also using robots to pick and pack orders in response to COVID. Automated shipping is now being heavily implemented as a way to cut down on the amount of times packages are touched and reduces the need for social distancing.
Another way robots are being utilized is having them expedite building construction. This system features a robotic arm and custom end effector which is driven by advance computer vision sensing technology, allowing the automation of certain construction site tasks. Additionally, robots can access hard-to-reach underground systems that may be too dangerous or inaccessible for humans. How it works is the robots' ultrasound and acoustic sensors enable the robot to detect cracks, blockages an the overall condition of the pipes, while the use of infrared sensors and magnetic field sensors enable the robot to navigate through the pipes themselves. Once the data is collected on the condition of the pipes the data is sent to water utilities. This technology helps to reduce costs associated with the excavation necessary to maintain or repair pipes. This, in turn, could help municipalities to avoid road closures.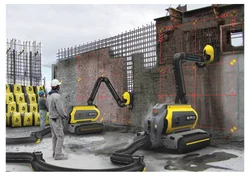 This is truly exciting technology and we are only touching the tip of the iceberg. Robots are in strong demand as is all factory automation. Because of this the supply chain for parts to build and install the robots and all factory automation has been severely challenged. Lead times are being stretched out and suppliers, even those who has been strong on delivery in the past, are running thin and witnessing long lead times.
If this has effected your business and you are having difficulty in obtaining instrumentation cables to meet deadlines, give Mueller Electric a call. Mueller Electric has been manufacturing instrumentation cables for years and has the expertise and production capacity to meet your instrumentation cable needs. Give Mueller Electric a call today at 800.955.2629 or submit the form below for a speedy response!